​Our Beautiful Camp Waterfront
On sunny summer days in NH our campers can't get spend enough time playing on our beautiful lake!
Campers are able to dive, use our 27-ft tall inflatable waterslide, ride on the Rockit, fish, bounce on the blob, explore in our canoes and kayaks, ride paddle boards, build sandcastles, and more! Campers also have the opportunity to waterski, wakeboard, kneeboard and tube during general swim. As you can see, our campers love our lake, and being surrounded by the natural splendor of New Hampshire.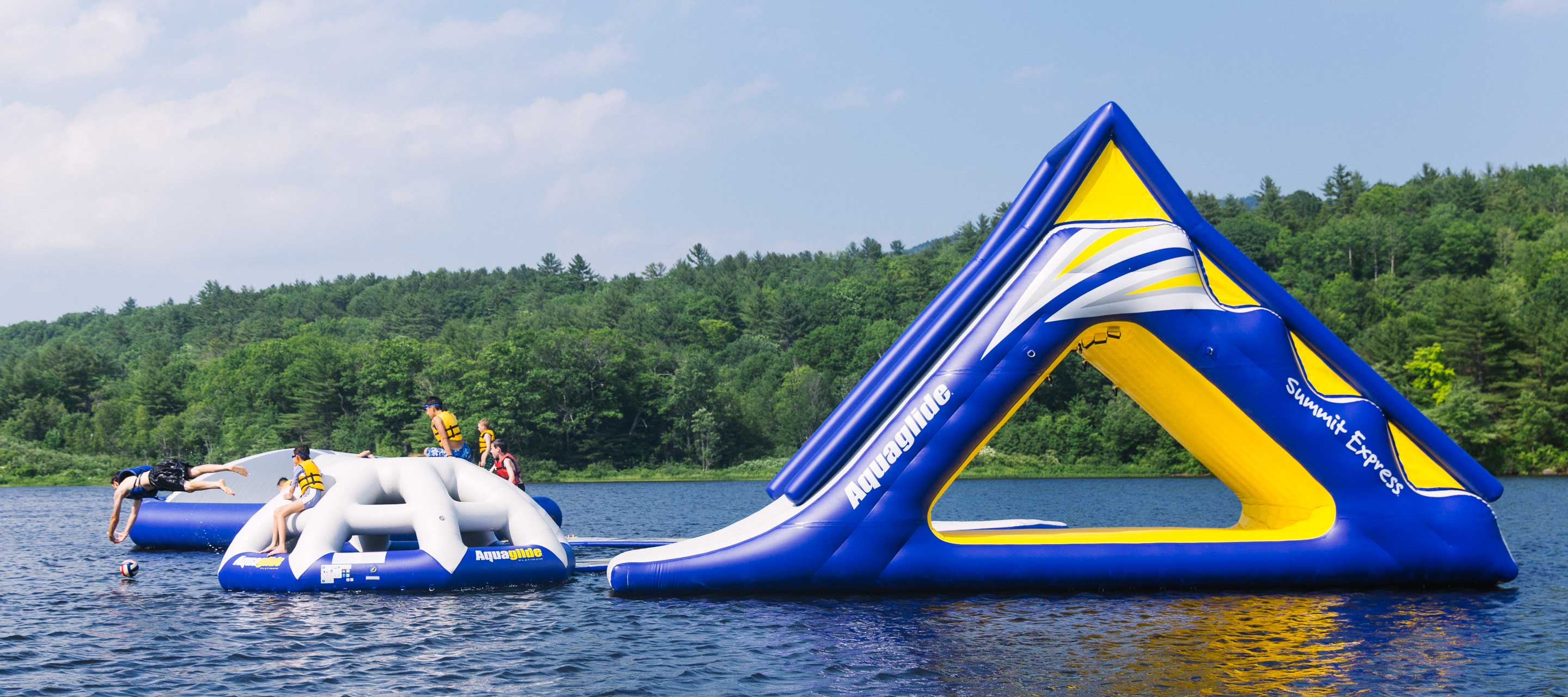 One of the most popular things to do during general swim is to take out a boat and explore. Each day expeditions of campers and counselors head out to find quiet coves, a family of box turtles, or the much-fabled "Beaver Dam". Our lake is also a great place to sit quietly with friends and fish on a warm summer's day.
Because we are brother-sister camps, Kenwood and Evergreen each have separate beach waterfronts. There are no other camps or houses on our lake, so our campers never have to worry about interacting with strangers at our beaches. On alternating Friday mornings volunteers from our boys' and girls' camps get up at the crack of dawn with our nature counselor Adventure Dave for a brisk leap in the lake as members of our Polar Bear Club. It's a fabulous way to start the day with a group of friends!
Each waterfront has 6 full-time Red Cross certified lifeguards, along with qualified Water Safety Instructors. Campers learn to master all 6 swimming levels, and also receive instruction in canoeing and boating. After completing the Red Cross swim levels campers also have the opportunity to be trained as professional lifeguards!
Waterskiing and wake boarding are very popular at camp, so we offer two different programs. Our beginner–to-intermediate skiers receive instruction on the basics, while our advanced skiers and boarders explore slalom and jumps. We want to make sure that our campers with a passion for skiing really get to work on their skills each summer!