Allergy Free Camp Experience
What about the kids with food allergies or intolerances?
Can an overnight camp provide amazing meals to all of its campers and staff, while also safely serving peanut and tree free nut populations, or those who eat gluten free, dairy free or egg free?
Our answer is simple: YES, and we do it every day of the summer!
A Peanut & Tree Nut Free Camp
Our goal is to create the most welcoming, inclusive overnight camp community possible, and that includes during meals, snacks, or any other time that we eat food together. Our counselors know that inclusion is the key, so that everyone feels safe and valued. For more than 10 years we have proudly been a peanut and tree nut free camp, and this extends to every aspect of our program. This includes our baked goods, ice cream, and the candy that we serve on movie nights. Our chefs even make homemade Chinese food, hummus and pesto without sesame oil or pine nuts, so that every meal or snack that we serve is safe for our peanut and tree nut free friends. When we travel outside of camp on day trips we only go to places that serve peanut free food.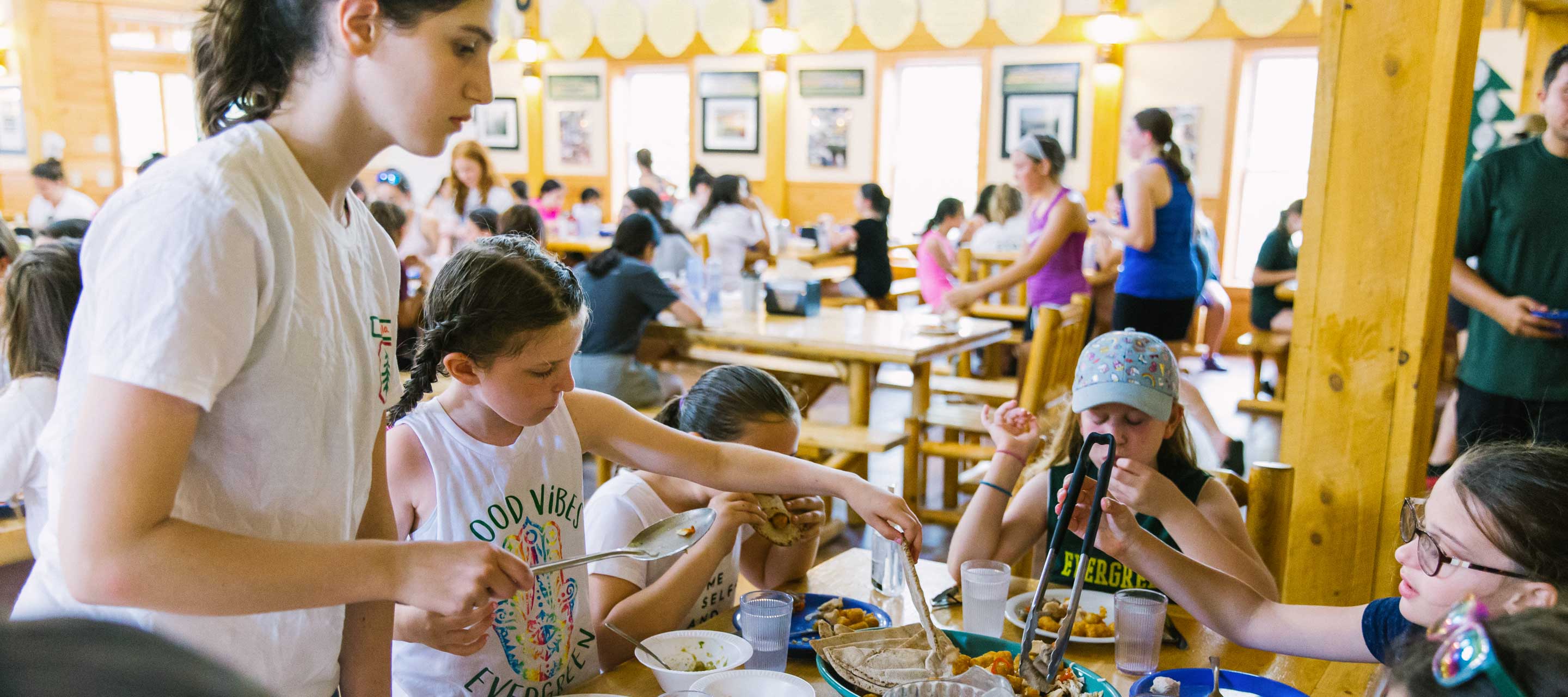 Proudly Welcoming Gluten Free & Dairy Free Eaters
And for almost a decade now we have happily provided safe and tasty meals for our friends with other food allergies Thursday evenings at Kenwood & Evergreen are BBQ nights, and we always have gluten and dairy free options for our campers and staff and intolerances like gluten, dairy or albumen. Through our forward-thinking food distributor we are able to purchase brands like Boar's Head, Kinnikinik, Andrea's, Udy's, Divvy's, Annie's and more! We have dedicated appliances and surfaces in our kitchen to prevent issues like cross contamination, and a refrigerator in the center of our dining hall so that campers can keep their personal condiments safe and accessible. Whenever possible our special meals look and taste just like what everyone else is eating. Our posted menus clearly mark what may contain gluten, egg or dairy so that campers have the opportunity to eat what is being served to each table. And when a bunk has a party on a special occasion the Amy's pizza arrives at the same time as the other slices!
We're not the only ones who have identified Camps Kenwood and Evergreen as a safe summer camp for children with allergies and intolerances. Living Without Magazine wrote a cover story about us being one of the only mainstream camps in the United States to truly provide a safe eating and living environment for allergic kids, and Epicurious featured us in their article Great Summer Camps for Kids with Food Allergies or Gluten Sensitivities. We are also proud to be one of only ten camps on the Food Allergy and Anaphylaxis Network's list of food allergy-friendly camps!