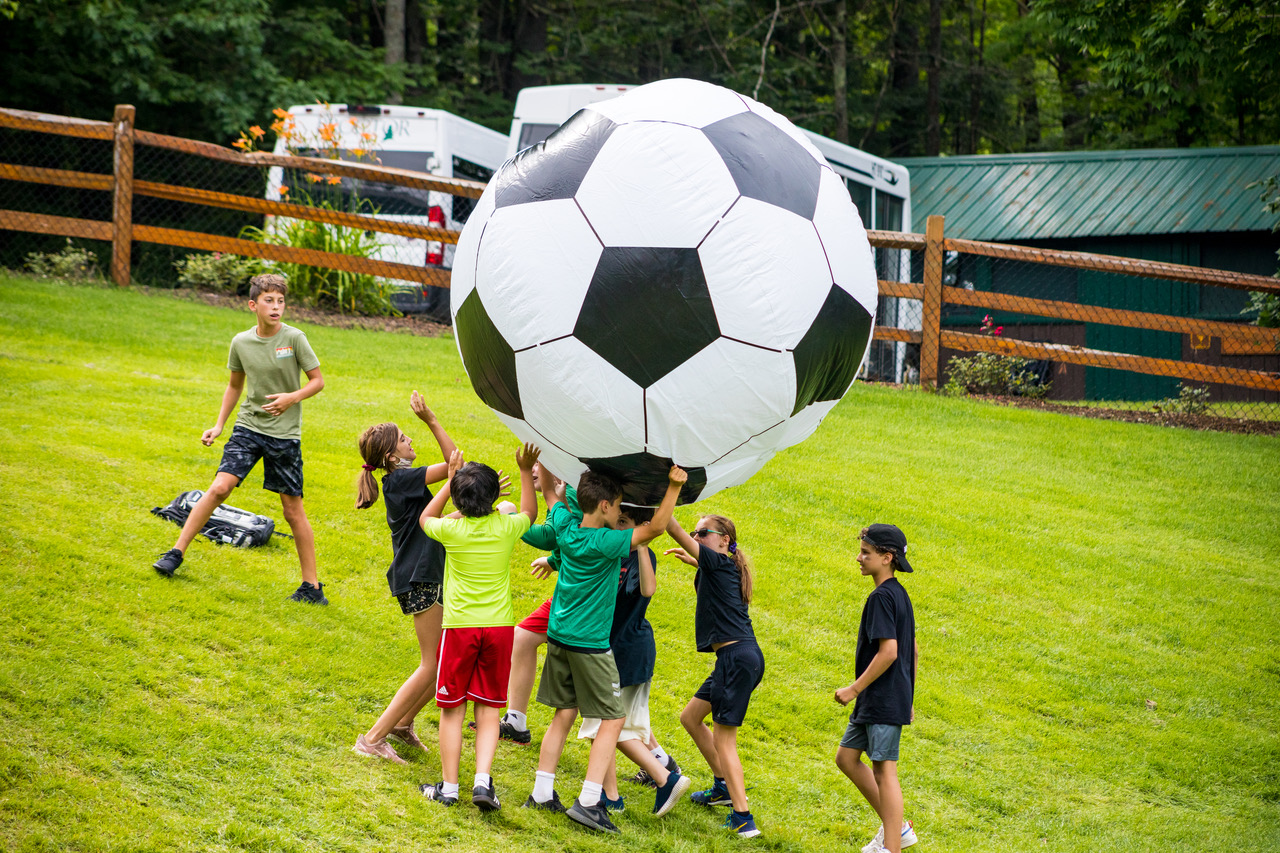 Big Weekend: Battle of the Apps (Unplugged Version)
July 14, 2021
As you already know from our photos and IG posts, on Sunday night we finished our "Big Weekend" special event. A six team version of our end of summer "Color War", the theme of Big Weekend changes every year. This year, it was social media and related apps…ubiquitous in all of our lives, especially during the last two years. In our decidedly unplugged version of life, teams Snapchat, Youtube, Zoom, Instagram, Tik Tok and Netflix competed in everything from our All Team (formerly Apache) Relay, where every child has a different role unique to his or her talents, to a Rope Burning contest, regular sports games and a myriad of unique challenge activities.
The Weekend culminated in an all team effort–team song and formation. Yes, formations…just like at college football games and the Olympic opening ceremony! Singing a song together that you learned in 36 hours is one thing, but creating the instagram logo in the Hollow and then pivoting to create a "like" button is the ultimate group effort!
The highlight of the weekend was at Rope Burning. The headline is that no team was able to build a fire tall enough and intense enough to burn through their rope. After having gathered wood throughout the day and strategizing about the design of the fire, when the actual event happened the moisture content in the wood from the many inches of rain that had fallen limited the reach of the fires, and though some came close, none succeeded. Our Hut 6 and Juniper campers, together with our TLC's, were disappointed for sure, but they took it in stride. Sometimes the deck is stacked against you, but you give it your all and take pride in your effort.We processed the events together as a whole camp and the takeaway was that sometimes you can do everything right and still not succeed, but we get up, go out and do it again the next day (maybe with a shift in our strategy if it can improve our chances of success). Maybe there's a self-help book here? I will leave it to your kids to write it.
These are my favorite camp moments…when we have to improvise…or surmount small but important losses. It's easy to have fun when the sun is shining and all is going well, and that is our life at camp most of the time. But the lessons that we learn when we face another drizzly morning and jump into activities with a zest and joy that shows we don't care if we get wet…those are the keepers. The mountain you never thought you could climb but you did, the rope that didn't burn, the waterslide your counselors made on Belle Island with plastic sheeting, an inflatable tube and some bio-friendly liquid soap…those are the memory makers!
As we find ourselves halfway through our third week, all is well in our camp world. Not perfect…there are still things we are working on…like our patience for others in our bunk, or working on our batting stance, or that tie dye shirt that has too much green in it, or the food that will get better! There is always more to be done, more skills to hone, more joy to squeeze out of every activity. For our three-week campers, their time at camp is drawing to a close, though many have chosen to extend their stay. We can't wait to welcome them back next year to the summer home they have grown to love. For the rest of us, there are still mountains to climb, games to play, woodshop projects to build, and camp friendships to relish and deepen with each passing day. Thank you for sharing your incredible children with us. We get to share the summer with them, in this beautiful place–rain or shine–on the shores of Eagle Pond.